Together we are

capable of miracles

Together we are

capable of miracles

The Charity Foundation is an organization in the public interest. Our clown doctors have been helping with the patients' treatment since 2008. Our clown doctor methods and enjoyment therapy has proven beneficial in improving the condition of sufferers in hospital. For us, your attention and help is important, and your donations! We gratefully thank you for your help!

We need you! Volunteers, DONATIONS, charitable giving and community partners make a difference towards the recovery of sick children.

Donate to the Karitacio Fund: IBAN – HU44-1070-0062-4824-4909-5110-0005 (SWIFT: CIBHHUHBXXX)

We make sick

children laugh

We make sick

children laugh

Healthy body, healthy mind! – so says the proverb, and indeed: the state of body and mind goes hand in hand. If a child is struggling with an illness of the body, and the side effects put the mind into a dark place… Here comes the Clown Treatment doctor team!

We need you! Volunteers, DONATIONS, charitable giving and community partners make a difference towards the recovery of sick children.

Donate to the Karitacio Fund: IBAN – HU44-1070-0062-4824-4909-5110-0005 (SWIFT: CIBHHUHBXXX)

We deliver food

to their homes

We deliver food

to their homes

In the "Adopt a family" programme since March 2020, many people and families have fallen into a hopeless situation because they lost their jobs or their livelihoods. The current pandemic brought the programme to life. Therefore, we have been visiting the families participating in the programme in southern Hungary monthly, and we made them smile with lasting food packages. We are searching for those families too, who have fallen into difficult circumstances because of the present situation – we will help you as well!

We need you! Volunteers, DONATIONS, charitable giving and community partners make a difference towards the recovery of sick children.

Donate to the Karitacio Fund: IBAN – HU44-1070-0062-4824-4909-5110-0005 (SWIFT: CIBHHUHBXXX)

For you it's USED

for the others it's NEW

For you it's USED

for the others it's NEW

The "Hacuka a jótett – hely" named charity shop was brought to life in 2008 by the Charity Foundation to help poor families with clothing. This is by emphasising another important global message – the importance of RECYCLING. This is also the motto of the shop: "Recycle which is USED for you, for others it will be NEW!" On the corner of Remény street and Kálvária square, there is the Hacuka Second hand clothes shop. This shop is one of the Charity Foundation's highlighted projects alongside the Clown doctors. It has been certified, that this year we donated more than 9500 kg clothes to poor families.

We need you! Volunteers, DONATIONS, charitable giving and community partners make a difference towards the recovery of sick children.

Donate to the Karitacio Fund: IBAN – HU44-1070-0062-4824-4909-5110-0005 (SWIFT: CIBHHUHBXXX)
CLOWN DOCTORS
FOOD DISTRIBUTION
ADOPT A FAMILY
CLOTHES DISTRIBUTION
ABOUT US
The Charity Foundation was born in 2008 after Márton Masa founder's and enthusiastic voluntaries, socially emotional young people's basic idea. The past 10 years brought many challenges for us, we could support thousands of poor people with our helping programmes, including families, or bigger communities, institutes.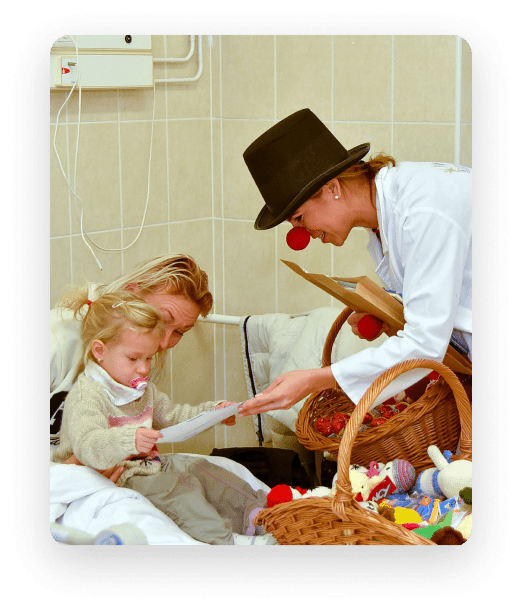 The Foundation's colleagues, volunteers help the poor children, families, elderly, ill people's weekdays whole year to our available food, clothes, books, toys taken to the best places. We are proud of that cooperating with civil organizations, companies and private people we could donate tools, usable items to more health institutes.
Our highlighted heart matter is to help the healing in hospital circumstances, the Charity Foundation Healing Clown Doctors going through the country to give everything which can make the damaged, ill children's days more easy with cheerfulness. Many times they suffer from hurting treatment, missing the parents, the little patients can hardly bear the hospital days, our purpose is to switch these into laughter, leading them to the healing.
In intact body there is intact soul! – there is the proverb, and indeed: the body and soul power goes hand in hand. If a children is struggling with an illness testing the body, and the side effects put the soul into a critical conditon…Here comes the Treatment Clown doctor team!